D&B Hoovers helps you
find the best prospects
for your company
From prospect to profitable relationship
Access comprehensive information on more than 200 million company records
Link the prospects to the tools your sales and marketing team are working with
Real-time alerts, dynamically updated lists and personalized buyer intent models
In today's ultra-competitive marketplace, data-driven organizations have a distinct advantage over their rivals. Did you know that data-driven companies are 23x more likely to acquire new customers and 6x more likely to retain them?
We surveyed hundreds of B2B marketing professionals and found that nearly 40% feel their sales teams don't have the right account information to meaningfully engage with prospects and leads. D&B Hoovers can help close that gap and accelerate the path from prospect to profitable relationship through the effective use of data and analytics.
We believe there is a huge opportunity for B2B sales & marketing organizations to move from a traditional approach to prospects to one that accelerates sales.
D&B Hoovers leverages the world's largest commercial database and advanced analytics packed with insight to accelerate your sales process. It enables B2B sales and marketing professionals to accelerate sales, improve go-to market activities and increase business growth globally.
An overview of all that D&B Hoovers has to offer
Advanced features for sales teams who want to search less and sell more.
Search for concepts, not just keywords
Our powerful search capabilities go beyond ordinary keywords. They help you understand how companies, contacts and industries are related to targeted topics such as "driverless cars" or "acquisitions." Our unique search features provide an alternative way to identify companies involved in emerging technologies such as "drone delivery" to help you find sales opportunities before your competitors discover them.
Book a demo with a product specialist. We are happy to help you.
What to expect from D&B Hoovers?
Discover upsell opportunities
Get a complete picture of the company structure with parent companies, subsidiaries and affiliates. Our Linkages data can help you find your way around an organization and discover upsell and cross-sell opportunities.
Use advanced filtering options to get the right insights within family structures
Add an entire family structure or individual entities to a list with the click of a button
Export family structures including enriched data easily as .xls or .csv
D&B Hoovers provides the most comprehensive financial information available today with robust reporting options, including valuable insight into private companies.
Understand the financial health of an organization and discover threats or opportunities with a full spectrum of reports
Includes balance sheets, annual reports, SEC filings, equity reports, ratio comparisons, and geographic and business segments
Access company profiles, news and trigger alerts from D&B Hoovers on your phone. Plus, you can search for nearby businesses on the go to discover local sales opportunities.
Information and insights about 200+ million businesses on any device
Integrate actionable data into your CRM
D&B Hoovers seamlessly integrates with your CRM and gives sales and marketing teams a consistent source of real-time, complete and actionable data that helps improve sales productivity and increase ROI on marketing.
Update and enrich records with the click of a button, and access company profiles, contacts, news and triggers directly from the account, contact and lead records in your CRM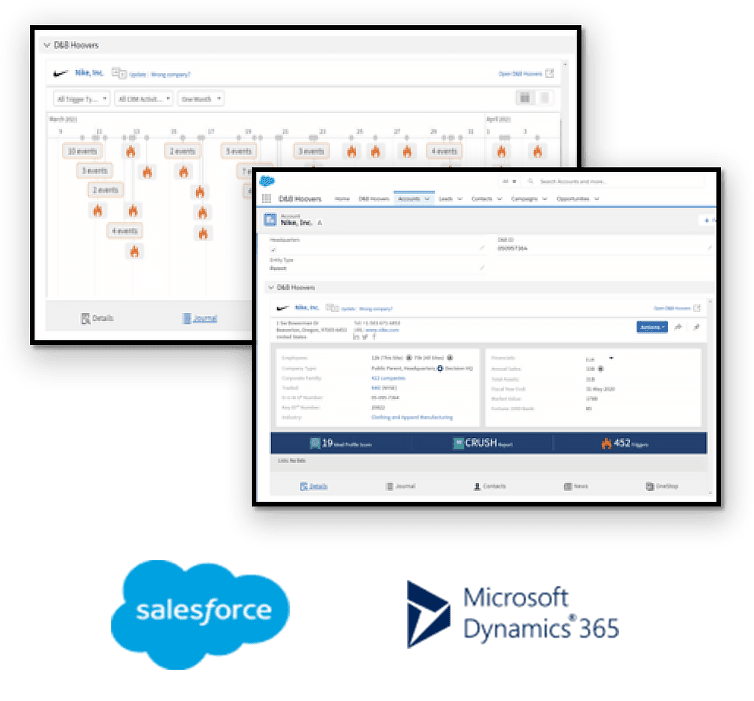 With our sales & marketing tool D&B Hoovers
we help you identify the best prospects for a better ROI.
What can we help you with?