Rotterdam, 3 May 2022 National business-to-business trade continued to climb out of the depression in recent months. Compared to January 2020 (index: 100), the trade intensity at the end of March 2022 was 87.0, which is still 13 percent lower than over two years ago. At the same time, it is a considerable catch-up, compared to the end of last year; in December, the index was still at 79.7. This is what Altares Dun & Bradstreet says after analyzing the latest figures of March 2022.
For the latest measurement Altares Dun & Bradstreet used the payment figures of some 250,000 companies in the Netherlands. By examining the number of invoices sent and other (anonymous) financial data, the business data specialist sees that various sectors are catching up. A higher number of invoices sent and collected in these sectors (usually) indicates economic recovery and growing confidence in the economy.
Plus for cafes and restaurants
The biggest recovery occurred for cafes and restaurants. In December 2021 the index for them was still at 81.3, now it is 100.7. This means that this industry is currently trading more than before the corona crisis. It is the only industry that can make this claim. The coming months will show whether this index is the result of an over-correction ('we are allowed again'), or whether bars and restaurants have recovered permanently from the crisis.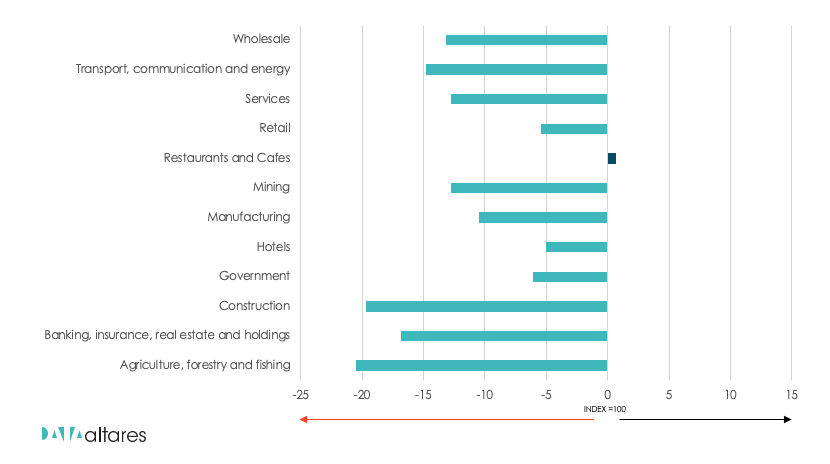 Further recovery for retail
The last quarter of 2021 was already good for retail. Even with the threat of a winter lockdown, retail trade then returned to 84 percent of its January 2020 intensity. This recovery continued in early 2022, with the trade intensity for the industry standing at 94.6 at the end of March, just over 5 percentage points below its pre-corona crisis level.
Construction sector also recovering
The construction industry was still one of the hardest hit sectors at the end of 2021. Construction payment volume fell more than a quarter in two years, to 74.0 in December 2021. Despite rising land and fuel prices, trade intensity for the industry is rising. The 80.3 index for construction marks the first time that intensity is back within 20 percent of January 2020. In February 2021, construction scored 85.3, which was the last time the index rose above 80.
Joris Peeters, Chief Data Scientist Benelux at Altares Dun & Bradstreet: "All sectors measured by us were in better shape at the end of March than in December 2021. Yet we want to warn against a jubilant mood. We do not know what macroeconomic developments such as the war in Ukraine, or inflation, will do to the economy. That, as well as the withdrawal of government support, is undoubtedly going to have an impact. We are therefore leaning towards cautious optimism, but are very curious to see whether the upward trend will simply continue from April to June."