Having the universe of company data at your fingertips within one tool. All the information you need to set up highly targeted sales & marketing campaigns. Sounds fantastic, doesn't it? As long as the market and the customer and prospect landscape are changing at a rapid pace, you can no longer rely on long-term major campaigns. You'd rather be talking to a company tomorrow where you can add value. By using data you can explore specific target groups that perfectly match your proposition.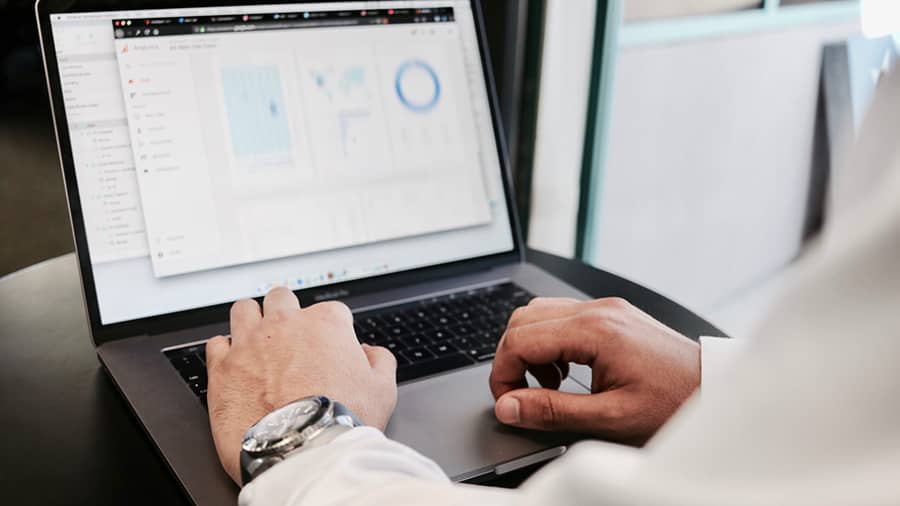 Map out your market potential
An often-heard frustration of marketing and sales managers is that they don't know enough about their true market potential. The best and biggest customers are taken as benchmarks, personas and focus industries are identified, and rayons are divided, but when do you know if you're reaching your full potential?
In the search for untouched opportunities, also known as green fields, a variety of sources are consulted. Have you ever spent hours Googling for prospects? Or spent time on a newsletter that goes to the entire customer database, hoping that a portion of the receivers can identify with one or more items? It's like shooting with hail.
You would like more customers, like your best customers. If you take this as your starting point, the danger is that you quickly end up looking for similarities. Whereas if you look for unique characteristics, you learn so much more about your own market potential and at the same time spot new sales opportunities.
Ideally, you want to spend valuable time on a profitable prospect, because the longer the conversion cycle, the longer it will take for that customer to generate sales.
More customers like your best customers
Spotting new sales opportunities
Get started with lead lists today
What you would really want is a dynamic overview of unique elements what differentiates companies from each other. A wide range of characteristics that can be combined with each other. By combining web-scraping techniques with Dun & Bradstreet's Data Cloud with B2B data on more than 3 million companies in the Netherlands, the possibilities for segmentation are endless and always real-time.
What would the world look like if you could create a specific lead list today that would allow you to send your sales team on a mission. A product like D&B Smart could help you with this. With the drag and drop functionality, you can enrich and adjust your segment over and over again. Create such a specific segment list that you can send your sales team on the road with a mission that is unbeatable.
Case Study: An event caterer recently successfully achieved a shift in business activities by using the insights gained from SMART. The organization started to focus on sustainable corporate catering. They were able to identify all the companies that met the ideal client profile for these new services. The following selection criteria were used: region, maximum radius of production location, focus on sustainability, number of employees, located in an industrial park and good financial health. Supplemented with numerous other elements, they were able to set up three specific campaigns and reduce their overall cost per lead by 37%.
With the demo version of SMART you can start creating lead lists today. You're guaranteed to earn points with this within your team and company. Because what is more fun than telling new customers how you can help them? And even more fun, getting them to sign a deal in a few weeks or months. #kaching
Make your sales reps happy with an overview of hot leads
Reduce cost-per-lead and increase conversion rate
Identification based on coordinates
When you use SMART the universe of business data is at your fingertips. Create dozens or hundreds of lead lists for hyper-personalized campaigns, because you focus on a very targeted audience and constantly adapt the message to it. The chance that your message ends up in the right place is many times higher than many traditional ways.
Returning to the universe, an overload of data can also give you new concerns. We can already tell you that half of all companies in the Netherlands have been filtered out by the 'low risk' and 'trading indicator positive' selection. That cleans up a bit!
An example of a recent startup application is a delivery service of regional agricultural products, by cargo bike only. Participating companies had to meet a certain level of sales, labels and financial health. All data that is available in SMART. By combining the coordinates of all the companies with SBI codes, the right companies per segment were identified. With the application of GPS coordinates we have been able to help several companies with mapping such as transmission masts and charging stations. The possibilities are endless.
Using GPS coordinates when building your segment
Trading indicator and low risk as a starting point
Digitalization, innovation, but certainly also the constant changes in your market demand a lightning-fast marketing approach. Don't waste any more time on creating lead lists and assure yourself of a successful future with more profitable prospects in your pipeline and a rock-solid proposition. By using data to create sales and marketing plans you will have a head start and faster growth. Get started today with a free demo version of SMART.